August 4, 1950 - August 10, 2019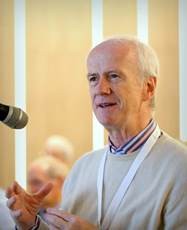 Prof. Marco Cicardi was a brilliant scientist, visionary and pioneer in advancing the field of Hereditary Angioedema. He contributed immensely to our present understanding of the disease and paved the way to further research, classification and development of modern treatments for HAE patients.
After completing his medical degree he trained as a fellow at Milan University with Prof. Agostoni. In the 1960's he went to the USA to join Dr. Virginia Donaldson in Children's Hospital University of Cincinnati as a research fellow; and later in Boston Children's Harvard University Medical Center, with Drs. Fred Rosen and Alvin Davis.
He showed a specific interest in Complement System diseases. His major field of research has been Angioedema due to C1 inhibitor deficiency. His major research achievements were the definition of the molecular mechanisms leading to the disease and the role of the contact system activation and bradykinin formation.
In the last five decades he contributed immensely to clinical trials that led to the development of new therapeutics for HAE; identification and validation of disease biomarkers; investigating the mechanisms leading to acquired C1-INH deficiency and idiopathic systemic capillary leak syndrome (Clarkson Disease).
With his radiating and amiable personality he was an incredible leader of world experts. He organized professional meetings to provide international treatment guidelines for HAE, and more recently pioneered the classification of new kinds of angioedema with normal C1-INH. He motivated and was the driving force behind the establishment of a global registry for HAE.
He was a Professor of Internal Medicine and head of the complement and research laboratory at the University of Milano, chairman of the department of biomedical and clinical sciences at Luigi Sacco and ASST Fatebenefratelli medical centers, president of the Medical Advisory Board of the Italian Association for Angioedema; co-chairman of the Medical Panel of the International Association for HAE and chairman of the recently established HAE Global Registry.
He contributed numerous publications in highly esteemed peer-reviewed journals and was an international leader in the field of angioedema.
Marco will be missed but not forgotten.