The role of flavor and fragrance chemicals in TRPA1 (transient receptor potential cation channel, member A1) activity associated with allergies
Allergy, Asthma & Clinical Immunology
2015
11:11
Received: 25 November 2014
Accepted: 18 February 2015
Published: 16 March 2015
Abstract
TRPA1 has been proposed to be associated with diverse sensory allergic reactions, including thermal (cold) nociception, hearing and allergic inflammatory conditions. Some naturally occurring compounds are known to activate TRPA1 by forming a Michael addition product with a cysteine residue of TRPA1 through covalent protein modification and, in consequence, to cause allergic reactions. The anti-allergic property of TRPA1 agonists may be due to the activation and subsequent desensitization of TRPA1 expressed in sensory neurons. In this review, naturally occurring TRPA1 antagonists, such as camphor, 1,8-cineole, menthol, borneol, fenchyl alcohol and 2-methylisoborneol, and TRPA1 agonists, including thymol, carvacrol, 1'S-1'- acetoxychavicol acetate, cinnamaldehyde, α-n-hexyl cinnamic aldehyde and thymoquinone as well as isothiocyanates and sulfides are discussed.
Keyword
Flavor and fragrance chemicals
Allergy
TRPA1
Isothiocyanates
Bradykinin receptors
Background
Allergies have been known as hypersensitivity disorders of the immune system since the beginning of the 19th century, and the concept of hay fever was described around same period. Later, it was proposed that allergic symptoms, such as asthma, were triggered by certain chemicals, in particular, naturally occurring ones [1]. For example, leukotrienes derived from arachidonic acid were hypothesized to play an important role in asthma [2]. Through studies conducted over the past decade, the association between immunogenic and neurogenic mechanisms in airway inflammation has been recognized [3,4]. It is also known that neuronal activation causes pain and irritation; neurogenic inflammation; mucus secretion; and reflex responses such as coughing, sneezing and bronchoconstriction.
Some of the agonists of transient receptor potential cation channel subfamily V member 1 (TRPV1) and transient receptor potential cation channel, member A1 (TRPA1) are reportedly potent tussive agents [3].
Figure
1
shows the structure of one TRPA1 subunit. TRPA1, which is a Ca
2+
permeable non-selective cation channel, functions to depolarize the plasma membrane and influx Ca
2+
[
5
]. The TRPA1 channel is a target of the mediators that promote inflammatory pain in the nervous system [
6
,
7
]. TRPA1 receptor agonists are chemicals that bind to TRPA1 receptors and activate the receptors to produce biological responses. Whereas TRPA1 receptor agonists cause actions, antagonists block the actions of the agonists. There are ankyrin repeat motifs in the intracellular N-terminal moiety of TRPA1. These moieties possess cysteine and lysine residues, which are essential for activation by reactive agonists. Also, a partial EF-hand domain, which is one of the motifs of a second structure of a protein, is associated with calcium-dependent gating [
8
,
9
].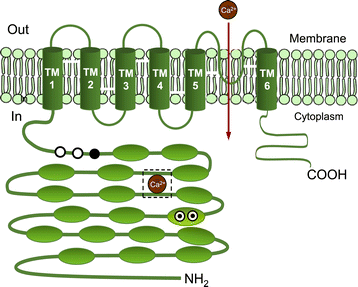 A functional channel consists of 4 identical TRPA1 subunits. A subunit has six transmembrane domains, TM1 - TM6 along with a long cytoplasmic N-terminal domain. Ovals indicate ankyrin repeat domains. Cysteine residues of TRPA1 are marked with ⨀ for mouse, ○ for human and ● for mouse and human. They were essential for their covalent activation [10,11].
TRPA1 is activated by various noxious stimuli, including cold temperatures, pungent natural-compounds, and environmental irritants [
10
,
12
]. Many TRPA1 agonists, which are thiol reactive compounds, activate TRPA1
via
covalent modification of cysteine moieties within the cytoplasmic N terminus of the channel [
11
]. Figure
2
shows the proposed reaction pathway of the activation of TRPA1 by a typical agonist, allyl isothiocyanate (AITC). The figure is a modification of a previous report [
11
]. The EC
50
—half maximal (50%) effective concentration—values for the activation of TRPA1 by AITC vary among reports from as little as 0.6 μM [
13
], to 1.47 μM [
14
] and 3–34 μM [
8
]. TRP family members share this capacity as a polymodal signal detector, and these function to combine information from many physiological sources [
11
,
15
-
17
].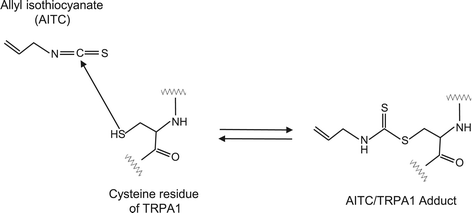 Figure
3
shows a model depicting the functional interactions of bradykinin receptors (BK), protease-activated receptor 2 (PAR2), and TRPA1 and TRPV1. The figure is constructed on the basis of previous reports [
7
,
8
,
18
]. The hydrolysis of phosphatidylinositol 4,5-bis-phosphate (PIP
2
) and the intracellular Ca
2+
release are phospholipase C (PLC)-dependent mechanisms, which activate TRPA1 downstream of inflammatory receptors [
8
]. Proinflammatory agents trypsin and tryptase are known to cleave to and to activate PAR2, which causes neurogenic inflammation by expressing on sensory nerves [
19
].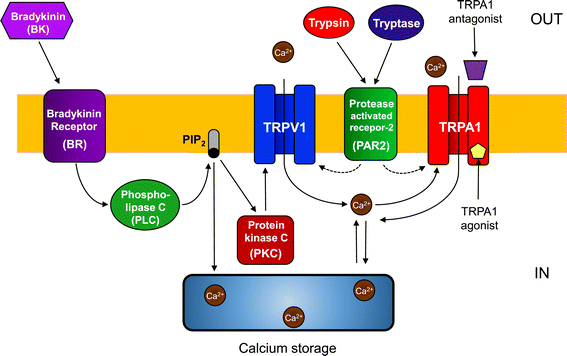 Genetic ablation of TRPA1 causes various biological phenomena, including inhibition of allergen-induced leukocyte infiltration in the airways, reduction of cytokine and mucus production, and significant disappearance of airway hyperreactivity to contractile stimuli. In addition, mouse model studies indicate that a TRPA1 antagonist inhibits chemical effects, such as thermal inflammation and mechanical hyperalgesia, neuropathic pain, and reduction of acute airway responses to chemical exposures [3]. This evidence indicates that TRPA1 is a crucial integrator of interactions between the immune and nervous systems that induces asthmatic inflammation in the airways following an inhaled allergen challenge [3,20]. Pharmacological desensitization of receptors is a basic mechanism of regulation of this kind of assault on neuronal systems [21]. TRPA1 is desensitized by its homologous agonists, such as allyl isothiocyanate (TRPA1 agonist) through the Ca2+-independent pathway and heterologous agonists, such as capsaicin (TRPV1 agonist), via the Ca2+-dependent pathway in the sensory neurons [5,21].
In this review, the roles of naturally occurring flavor and fragrance chemicals in TRPA1 activity associated with allergic disorders, such as asthma, eczema (atopic dermatitis) and allergic rhinitis are discussed along with the rationale for the use of TRPA1 as an anti-allergic target.
Conclusions
There are two groups of naturally occurring flavor and fragrance chemicals associated with TRPA1: one group comprises the antagonists, such as camphor, 1,8-cineole, menthol, borneol and fenchyl alcohol; and the other group is the agonists, such as thymol, carvacrol, 1'S-1'-acetoxychavicol acetate, cinnamaldehyde, thymoquinone and isothiocyanates. TRPA1 antagonists have anti-inflammatory and anti-allergic effects, possibly due to their TRPA1 blocking activity expressed in sensory neurons. On the other hand, activation and subsequent down-regulation of TRPA1 expressed in sensory neurons (desensitization) may be associated with the anti-allergic property of the TRPA1 agonists. Fragrance chemicals associated with TRPA1 are extremely important because they play a key role in allergic reactions. Therefore, investigation of how TRPA1 reacts in tandem with other chemicals is one way to elucidate various allergic mechanisms and to further efforts to improve drug treatments to prevent allergic reactions.
Declarations
Acknowledgements
We thank Kazuhito Asano, Takashi Yamamoto, and Osamu Nishimura for their helpful comments and discussion.
Authors' Affiliations
(1)
2-10-12 Nishinippori, Arakawa-ku, Tokyo, Japan
(2)
Department of Environmental Toxicology, University of California Davis, Davis, USA
Copyright
© Mihara and Shibamoto; licensee BioMed Central. 2015
This is an Open Access article distributed under the terms of the Creative Commons Attribution License (http://creativecommons.org/licenses/by/4.0), which permits unrestricted use, distribution, and reproduction in any medium, provided the original work is properly credited. The Creative Commons Public Domain Dedication waiver (http://creativecommons.org/publicdomain/zero/1.0/) applies to the data made available in this article, unless otherwise stated.